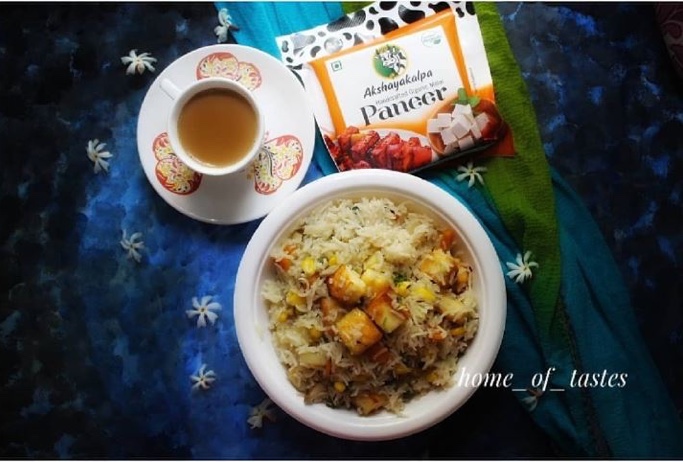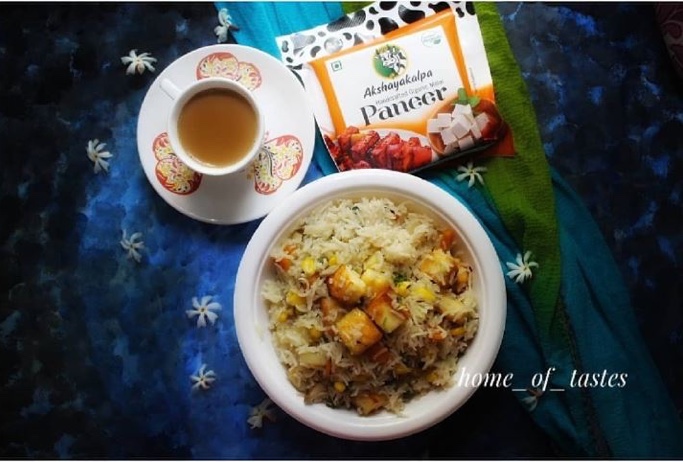 Akshayakalpa Organic Handcrafted Malai Paneer is made from fresh, wholesome Organic Cow Milk and Organic Curd. It has a high protein content and is free from artificial emulsifiers and preservatives, which makes it an absolutely awesome choice to use in all dishes.
Paneer-200g
Vegetable (optional; corn,beans)
Onion-1
Cloves-4
Cinnamon-1/2″
Bay leaf-1
Pepper-6-8
Ghee-2 tbsp
Ginger garlic paste-1tsp
Soya sauce-1tsp
Green chilli paste-1tsp
Red chilli paste-1tsp
Basmati rice-2cups, (Soaked for 20min)
Salt to taste
Step 1
Wash and soak basmati rice.
Step 2
Take a kadai add ghee, fry sliced paneer and transfer it.
Step 3
In the same kadai add spices, onion and fry them.
Step 4
Add ginger garlic paste, sauces and fry them.
Step 5
Adding veggies and fry it again for two-three minutes.
Step 6
Add soaked rice and salt per taste and 4 cups of water and cook in medium flame.
Step 7
Finally add paneer and mix well and serve
This recipe is shared by  

Akshayakalpa