Leadership
Translating the vision of farmer-led rural entrepreneurship and quality organic dairy produce into reality.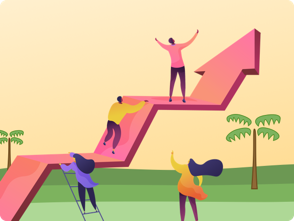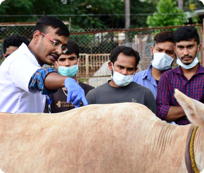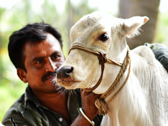 Shashi Kumar
Co-Founder & CEO
Revolutionizing the Indian Dairy Industry
Shashi Kumar is the co-founder and the current CEO of India's First Organic Milk Company, with the goal of enabling rural entrepreneurship and wealth creation among small and marginalized farmers.
Shashi graduated Masters in Telecommunication Engineering, Software and Telecom Engineering from the Illinois Institute of Technology, Chicago and worked in the telecommunications Industry for close to 17 years, 13 of which were in Wipro Technologies. He loved debugging protocol stacks and driver implementations especially Adax SS7 boards.
Working to address the challenge of economic viability of farmers with small and medium landholding and exploring technology induction and automation of small farms.

Toni Pinto
Chief Financial Officer
Generating value beyond just the numbers.
Tony has vast experience of more than 25 years in the field of Finance, Accounts, Audit, MIS, Costing, Banking & Administration. He holds master degree in Commerce (M.Com), specialized in Banking & Finance.
Prior to Joining Akshayakalpa, Toni Pinto was positioned as General Manager and was leading foreign collaborated business with Netherland & Spain.
He has rich experience in managing 100% EOU business and has serviced many sectors like, Gherkins, Cocopeat & Vinegar manufacturing & exports.

Rajeev K
Head of Extension
Technical oversight and thought leadership.
Rajeev is the Head of Extension and has over 10 years of experience at Akshayakalpa.
He has handled different roles and responsibilities in Extension at Akshayakalpa as the Extension officer, Area Officer, Manager-Banking Liaison, Program Manager – Extension and is currently working as the Head of Extension.
He holds an BE(E&C) from Acharya Institute of Technology affiliated to VTU. Interested to work with and help farmers, he joined Akshayakalpa.

Nethra
Administrative Controller
Business management and business goals are correlated.
Following her bachelors in education and science, she became an assistant teacher at Bengaluru New Pioneers High school, shaping young and inquisitive minds for 3 years and later served as the head of her computer coaching institution for 5 years.
Currently at Akshayakalpa, she manages the HR operations, Admin Functions, Statutory Compliance along with board matters & Corporate affairs.
Hailing from the farmer's community she was inspired by Akshayakalpa's vision to recognize and uplift rural farmer as an entrepreneur. Now as a part of the organization, she aligns her dreams with that of Akshayakalpa to shape the future of Indian farming.