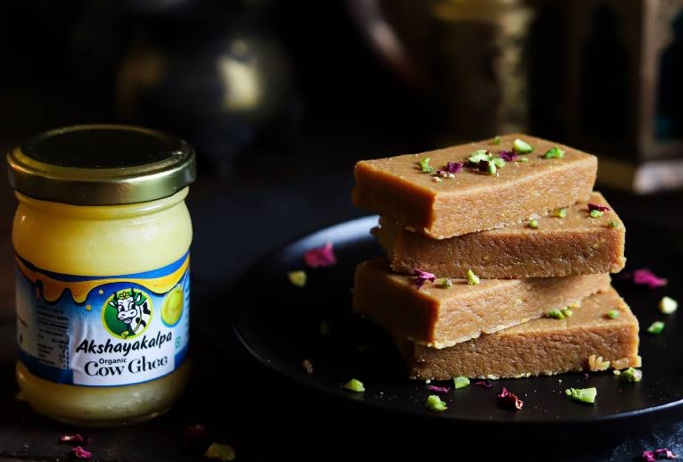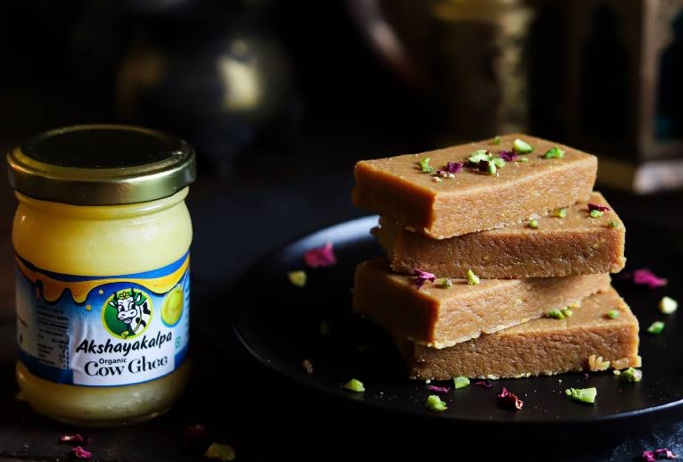 Mysore Pak originated in the city of Mysuru, Karnataka. The origin of the dish is credited to the chief chef, Kakasura Madappa, of the Maharaja of Mysuru, Krishnaraja Wodeyar.
1 Cup – Besan/Gram flour
1 Cup – Sugar
¾ Cup – Akshayakalpa Organic Cow Ghee
½ Cup – Water
Step 1
Place a pan on medium heat and roast the besan until it starts to turn golden and aromatic.
Step 2
Add half cup ghee to the pan and mix well to break all the lumps.
Step 3
In a separate pan, add the sugar and water and place it on medium heat until all the sugar is melted. Turn the flame low.
Step 4
Cook the sugar syrup till single string consistency. Do not overcook the sugar syrup.
Step 5
Add the besan and ghee mixture into the sugar syrup and mix well stirring constantly.
Step 6
Now add 2 tbsp ghee and stir until ghee is mixed.
Step 7
Add 2 more tbsp ghee and mix again.
Step 8
Once the ghee is mixed, switch off the heat and take out the mixture on a greased plate.
Step 9
Spread it evenly and let it cool for about 15-20 minutes.
Step 10
Cut it into rectangles and serve.
This recipe is shared by  

Shilpa (vanillatrails-Instagram)