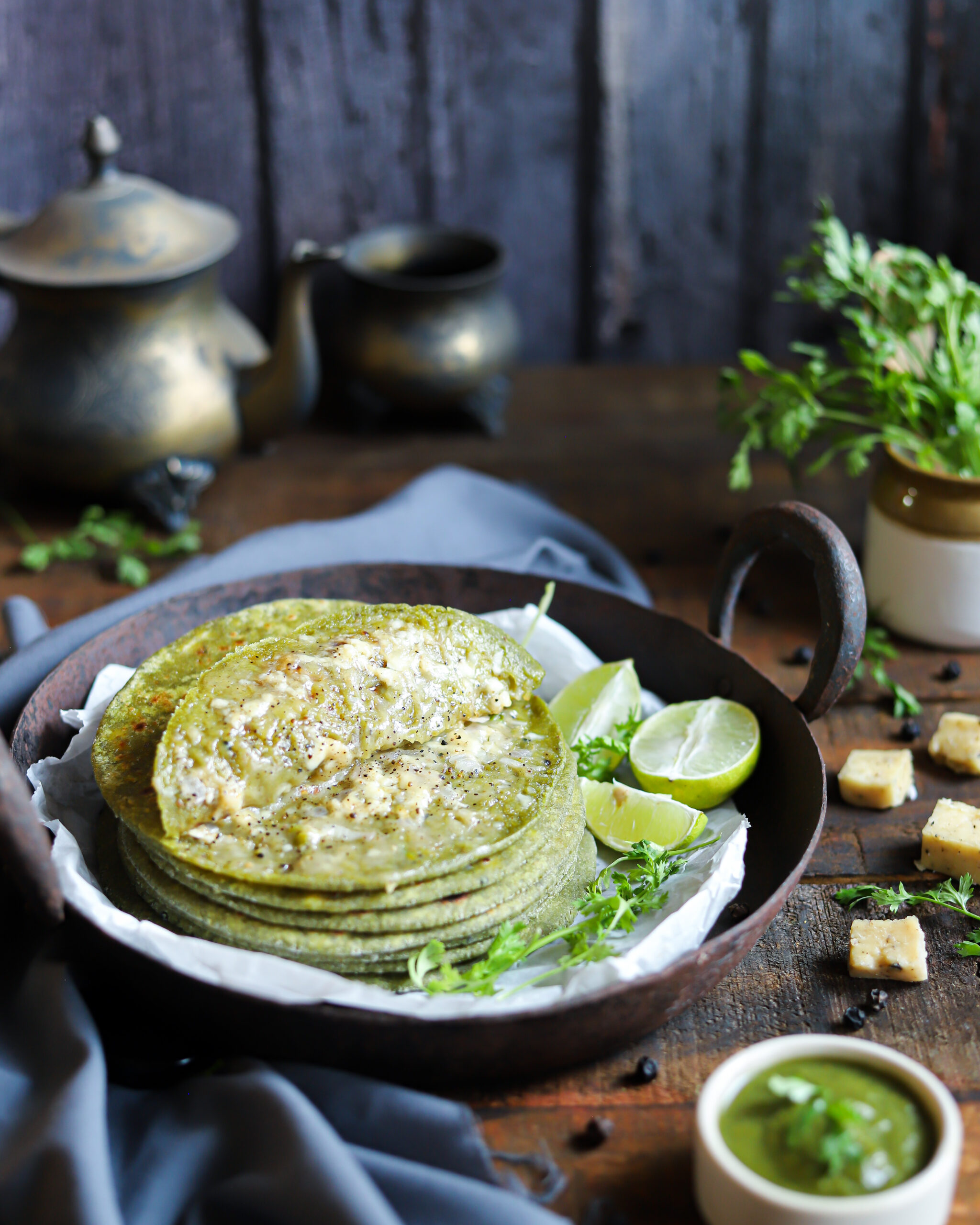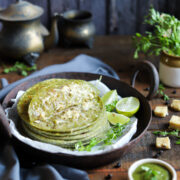 Dough :
2 Cups – Whole wheat flour/Atta
½ Tsp – Salt
100g – Fresh Spinach
1 Tbsp – Akshayakalpa ghee
Water – To knead the dough
Stuffing :
100g – Akshayakalpa Paneer
100g – Akshayakalpa Pepper Cheddar Cheese
¼ Tsp – Crushed pepper
1 Medium sized onion – Finely chopped
1-2 Green chillies – Finely chopped
½ Tsp – Salt
1-2 Tbsp – Akshayakalpa ghee
Step 1:
Wash and grind the spinach with a little bit of water to a puree.
Step 2:
Take the flour, ghee and salt in a mixing bowl and give it a thorough mix.
Step 3:
Now add the spinach puree and knead the dough. Add a little extra water if needed.
Step 4:
In another bowl, grate the paneer and the cheese. Add the chopped onion, chillies, crushed pepper and salt to the bowl and mix until everything is evenly combined.
Step 5:
Now make 6-8 balls of the dough.
Step 6:
Flatten each dough ball in your palm or using a rolling pin and place 2-3 tbsp of the filling in the middle.
Step 7:
Now wrap the dough around the stuffing and close the dough ball.
Step 8:
Roll each stuffed ball into a round paratha.
Step 9:
Place the rolled paratha on a tawa/frying pan and cook it on both sides until you notice brown spots all over the cooked paratha.
Step 10:
Add a little ghee to both sides on the paratha and take it out. Enjoy the hot parathas with some chutney.
This recipe is shared by  

Vanillatrails