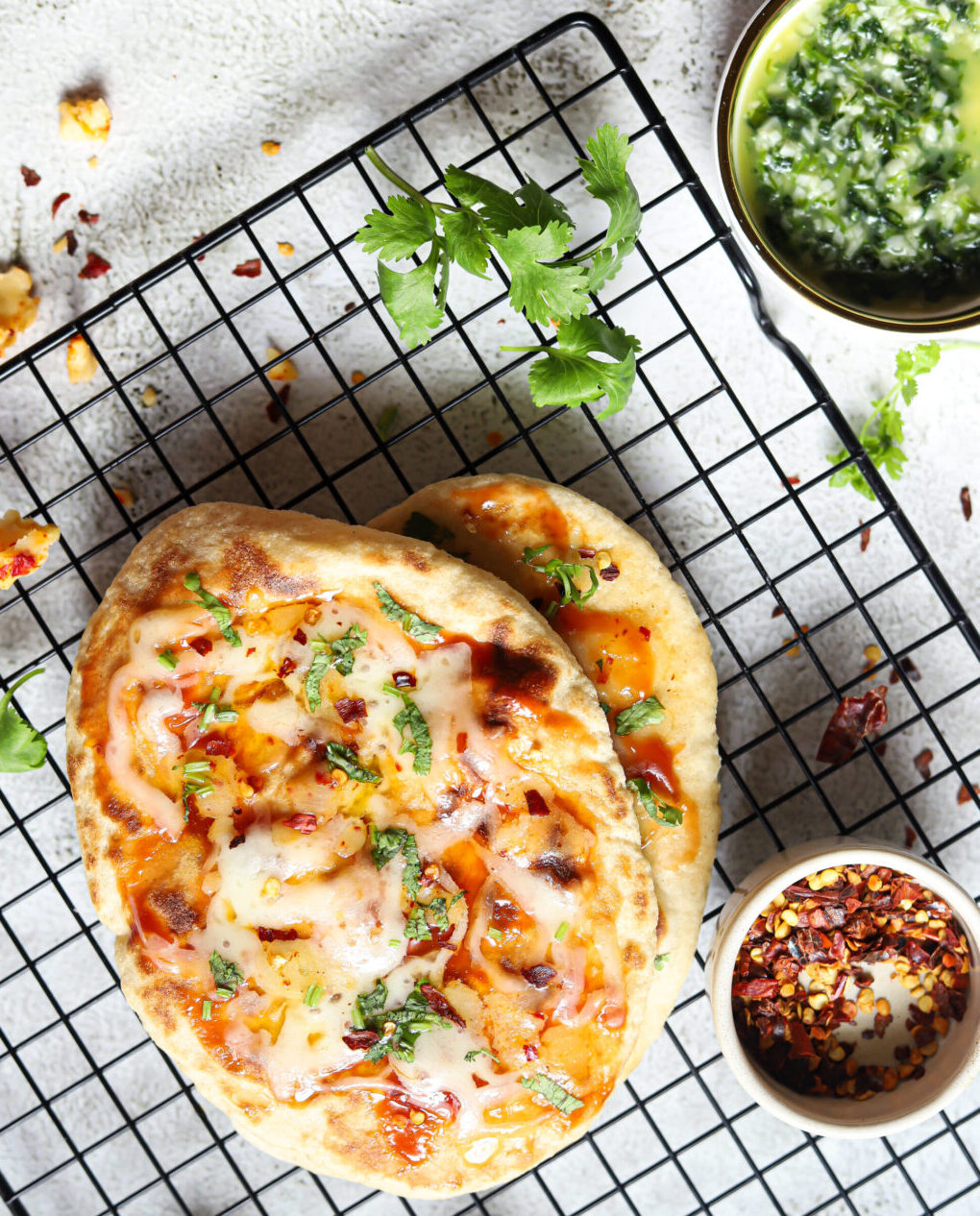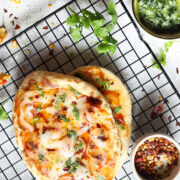 For the dough
1 Cup – All purpose flour/Maida
1 Cup – Whole wheat flour/Atta
¼ Tsp – Salt
1 Tsp – Instant yeast/Dry active yeast
1 Tbsp – Sugar
1 Tbsp – Akshayakalpa ghee
2 Tbsp – Akshayakalpa curd
¼ Cup – Akshayakalpa milk
Water as needed
For the topping
1 Cup – Akshayakalpa Pizza Cheese grated
¼ Cup – Akshayakalpa Chilli Cheddar grated
½ Cup – Pizza sauce or ketchup
¼ Cup – Chopped coriander leaves
1 Tbsp – Chopped garlic
Step 1:
In a small bowl, take slightly warm milk, add the yeast and sugar, give it a stir and leave it for 5-10 minutes.
Step 2:
In a bigger cleaner bowl, take all the flour, salt and ghee and give it a mix. Make a well in the middle of the dough and pour the milk and yeast mixture into the bowl, along with the curd.
Step 3:
Now knead a soft dough adding a little water at a time. Cover it with a clean kitchen towel and leave the bowl in a warm place for 1-2 hours or until the dough doubles in size.
Step 4:
After the dough has risen, punch it to knock the air out and knead it for a few seconds.
Step 5:
Now divide the dough into 5-6 equal parts. Roll each ball into a thin naan shape.
Step 6:
Place it on a tawa/frying pan on medium flame and cook on one side. Flip the naan and on the cooked side, spread some ketchup or pizza on top.
Step 7:
Sprinkle 2-3 tbsp of Pizza cheese, a little bit of chilli cheddar, some chopped garlic and some chopped coriander. Cover the tawa/pan with a lid and let the naan cook for 2-3 minutes, until the cheese melts and the naan is cooked at the bottom.
Step 8:
Enjoy the naans warm.
This recipe is shared by  

Vanillatrails