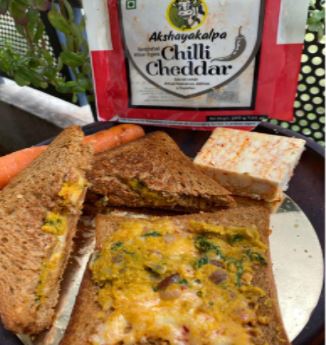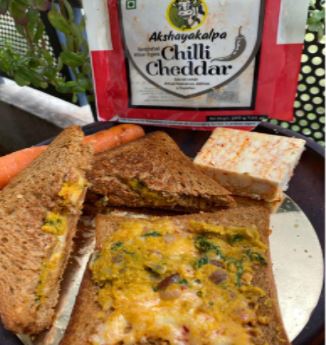 Carrots are a bundle of Vitamin A, B6, K1 and Beta carotene. They are a perfect health food and best beneficial when combined with organic cheese. 
Akshayakalpa 

chilli

 Cheddar-100gms

Brown bread or any bread of your choice

-6 slices

200

gms

 of grated carrots

 

100

gms

 of chopped spinach and coriander leaves

 

1

finely

 chopped onion

 

2

tbsp of Akshayakalpa salted butter

 
In a tbsp of 

Akshayakalpa

butter

on a medium flame pan

, fry onions until pink or cooked well.

Then, add the grated c

arrots, chopped spinach and coriander leaves for about a minute or

two

 

Heat the Tawa on a medium flame, Dab the Tawa with

Akshayakalpa

 butter and 

place the bread slices

 

Top the bread with cooked carrots and gently spread the grated cheese and 

place a slice of bread on top of it. Close and cook the sandwich with a pan lid for about a minute

.

 

Remove from pan and serve hot with sauce.
This recipe is shared by  

Akshayakalpa