Onam as a Farmer's Festival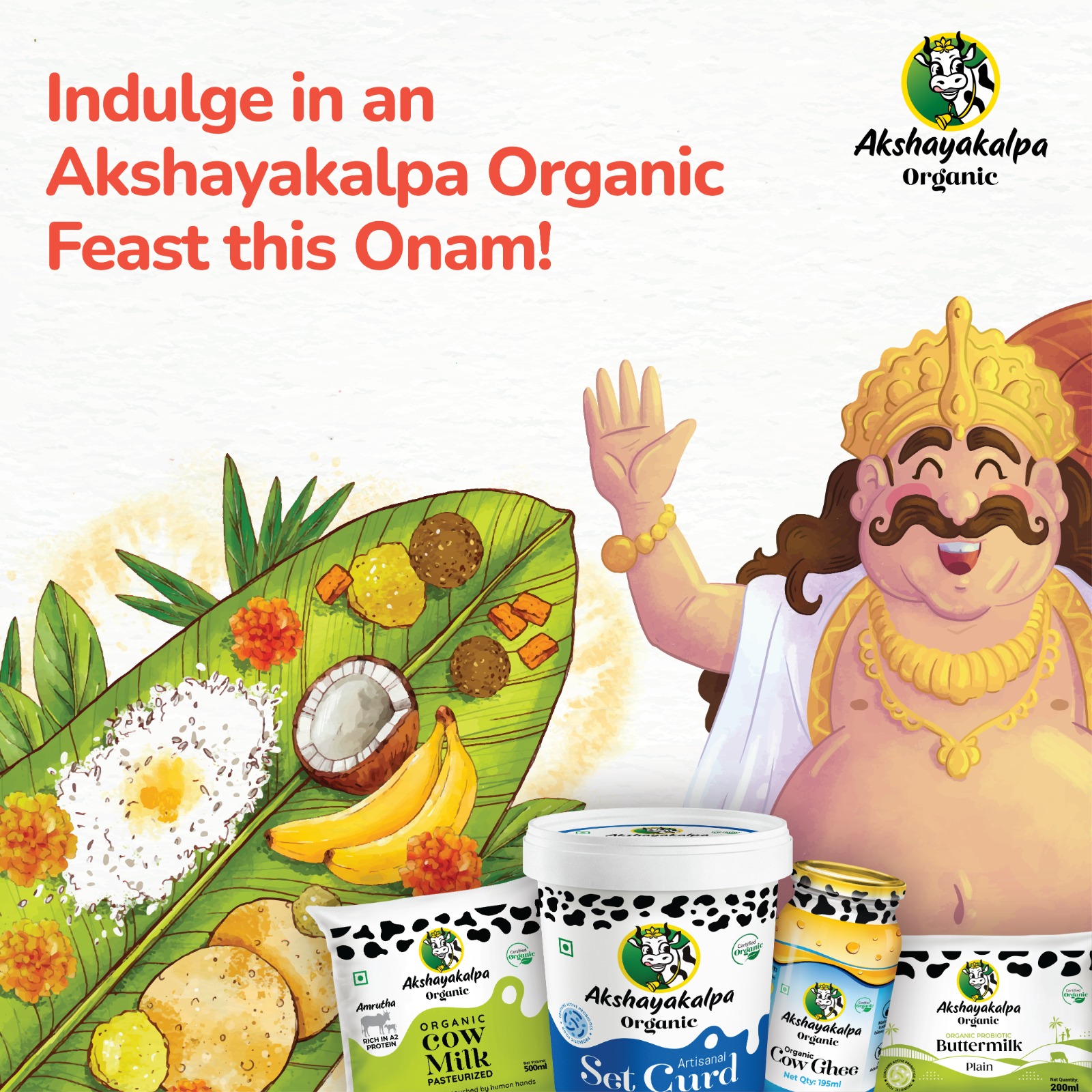 Onam's essence as a farmer's festival is derived from its connection to the agricultural cycle. It is celebrated at the end of the monsoon season when the fields are lush and bountiful with crops.
The festival is a way for the farming community to express gratitude to the deities and nature for a successful harvest. The floral decorations, particularly the intricate design known as "Pookalam," are created using a variety of vibrant flowers that symbolize the richness and beauty of the harvest.
The centerpiece of Onam celebrations is the grand feast, Sadhya, which showcases the variety of crops reaped during the season.
The Essence of Sadhya:
Sadhya is an integral part of Onam and represents the cultural heritage and culinary traditions of Kerala. It's a grand vegetarian feast served on a banana leaf, featuring an array of dishes that are served in a particular order and layout.
The preparation of Sadhya involves meticulous planning, skillful cooking, and a deep understanding of flavors. This Onam give an organic twist to your sadhya:
Rice: The feast begins with a serving of rice, which is the staple food of Kerala.
Sambar and Rasam: These are flavorful lentil-based soups with spices and vegetables that are served as accompaniments to rice.
Aviyal: A mixed vegetable dish cooked with Akshayakalpa organic coconuts and organic yogurt, adding a creamy and rich texture to the meal.
Thorans: Various vegetable stir-fries made with grated coconut and spices.
Olan: A mild curry prepared with ash gourd, coconut milk, and black-eyed peas.
Pachadi: A yogurt-based dish that combines sweetness, sourness, and spiciness using ingredients like cucumber, pumpkin, or beetroot.
Pickles and Papadam: These add tanginess and crunch to the meal.
Payasam: A sweet dessert made with rice, jaggery, and coconut milk, often flavored with cardamom and garnished with nuts.
The Sadhya reflects the diversity and abundance of crops harvested during the season, and its preparation is often a collaborative effort involving multiple family members.
RECIPES
Immunity boost – Laddoos
Ingredients
Dry ginger powder
Jaggery (gud)
Akshayakalpa Organic Ghee
Step 1
Take equal amounts of dry ginger powder (sonth), jaggery (gur) and ghee
Step 2
Mix well and roll it into small balls. Start and end your day with one laddu.
—————————————————————————————–
Ghee and Turmeric Laddoo
Akshayakalpa Organic Cow Ghee
Coconut Sugar
Pepper
Turmeric Powder
Step 1
On low heat add to a pan 3tbsp ghee till it melts.
Step 2
Add 1/4 cup coconut sugar. Mix well.
Step 3
Add 1/2 tbsp turmeric powder and 1 tsp pepper powder, continue mixing on low heat.
Step 4
Allow the mix to cool slightly so it solidifies and then make into balls.
Step 5
Top it with your favourite nut to make it fancy.
———————————————————————————-
Sabudana Kheer or Payasam
Sabudana/Sago- 1/2 cup
Water – 2 cups
Akshayakalpa Organic Milk – 1/2 litre
Jaggery- 1.5 cups
Cardamom powder- 1/2 tsp
Akshayakalpa Organic Cow Ghee- 2 tbsp
Cashew nuts (broken into halves)-2 tbsp
Raisins- 1 tsp
Water(for jaggery syrup)- 1/4 cup
Step 1
Heat a kadai/wok, add sabudana/sago pearls and dry roast on low flame for 3-5 mins.
Step 2
Add 2 cups of water to a deep bottomed vessel and cook the roasted sago pearls until they turn transparent.
Step 3
Add milk and cook on low flame until it thickens a bit. Keep sauteing in between to prevent burning at the bottom.
Step 4
Meanwhile, add jaggery and water to a sauce pan and heat on low flame until it melts. Turn off the heat and allow the syrup to cool.
Step 5
Once the milk starts thickening, add cardamom powder and mix well.
Step 6
Turn off the flame once the milk has thickened and add the jaggery syrup and mix well.
Step 7
Add ghee fried cashew nuts & raisins and mix well.
Step 8
Serve warm or chilled.
————————————————————————————-
Seedy-curd
Akshayakalpa

 curd-200gms

 

Any edible seeds 

(roasted

-pumpkin, watermelon, 

sunflower

) -50 

gms

 

Sprinkle of spices (chilli or pepper)

Honey/

jaggery

– 1 teaspoon (optional)
Mix up all the 

ingredients and serve

.