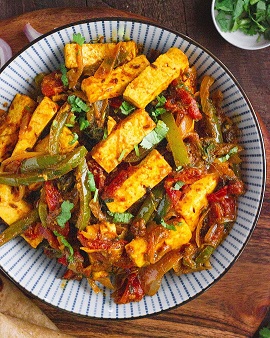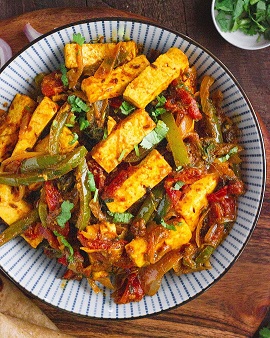 Akshayakalpa Organic Handcrafted Malai Paneer is made from fresh, wholesome Organic Cow Milk and Organic Curd. It has a high protein content and is free from artificial emulsifiers and preservatives, which makes it an absolutely awesome choice to use in all dishes.
Akshayakalpa Organic Malai Paneer
Cumin seeds
Onions
Garlic
Tomato
Green Capsicum
Chilli powder, coriander powder, turmeric powder
Garam Masala
Kasuri Methi
Coriander leaves
Salt to taste
Step 1
In a pan add oil. Add cumin seeds. Add sliced onions, sauté till golden.
Step 2
Add grated garlic. Lower the flame and add chilli, coriander and turmeric powders. Sauté for a few seconds.
Step 3
Add sliced tomato, green capsicum, a splash of water and salt.
Step 4
Cover and cook for 5 mins.
Step 5
Add paneer chunks, garam masala, Kasuri methi and cook for a few mins.
Step 6
Garnish with a generous heap of chopped coriander
This recipe is shared by

thespicetins